Sam Dodita is October's Kid of the Month
Sam Dodita has become one of his coaches favorite students and training partners in Brazilian Jiu Jitsu.
A member of our Submission Samurai jiu jitsu competition team, Sam regularly competes on behalf of Straight Blast Gym Buford. Not only is he winning all kinds of medals for the gym, but he's helping his teammates to become better athletes and competitors too. It was this attribute that led the SBG Buford's Kids Jiu Jitsu coaches to select Sam as our Martial Arts Member of the Month.
Martial Arts Jiu Jitsu Coach Julie Choi said this about Sam:
"He's always been a good kid, but over the past few months he's become an integral part of our kids jiu jitsu program. Although a good competitor, he had a reputation for bulldozing over his teammates during our 'live' sparring sessions. Recently, he's become a fantastic training partner, slowing down and helping his partners to get better."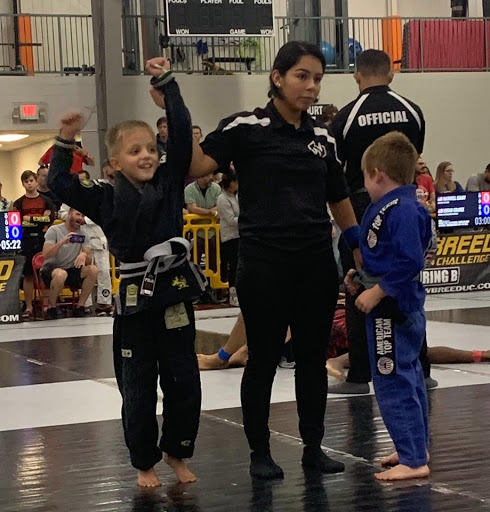 It is that kind of attitude and training mentality that we expect from our Submission Samurai athletes. Watching Sam drill jiu jitsu techniques with his teammates, you can see him talking them through the movements. It not only helps Sam's teammates to get better and enjoy their jiu jitsu experience, but it has helped Sam to become a better martial arts coach and teacher; something that could certainly be in his future.
Sam, and his brother David, have been with Straight Blast Gym for over 2 years. Both of them have shown tremendous progress, both on and off of the mats. When asked what he's most excited about, going forward with his martial arts journey at SBG, he replied "The Gorilla Cup."
Congratulations Sam, and keep up the great work!!