Martial Arts Student of the Month | July 2020
Denis Balakin is SBG Buford's Martial Arts Student of the Month for July 2020.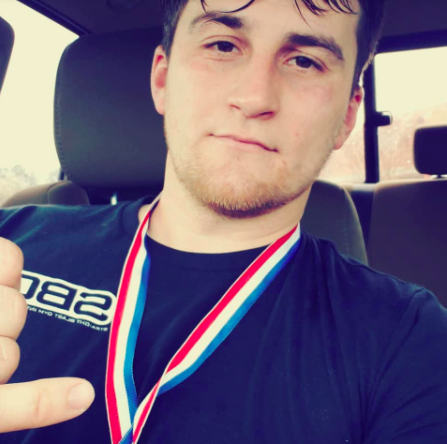 It's been a wild ride for SBG Buford's Jiu Jitsu program, over the past few months.  With a global pandemic forcing Straight Blast Gym to shut down for two months, our martial arts students were not able to get on the mat and do what they love...train in Brazilian Jiu Jitsu.  Despite that mega-hurdle, Denis still went out of his way to stay in shape and continue practicing his jiu jitsu.
While SBG Buford was not allowed to have people inside it's walls, Denis would not be stopped from living an active lifestyle.  While we weren't allowed to have people and classes inside our gym, SBG did virtual Brazilian Jiu Jitsu classes via Zoom, and Denis was regularly a participant.  When he wasn't doing Jiu Jitsu, he was riding his bike to keep his cardio up.  When SBG Buford was able to reopen, it wasn't without restrictions and we had to do BJJ solo-drills for the first month.  Most of our Jiu Jitsu students weren't into the idea of training without a partner, and attendance was sparse.  You know who still made it to almost every solo-drill class? Denis Balakin.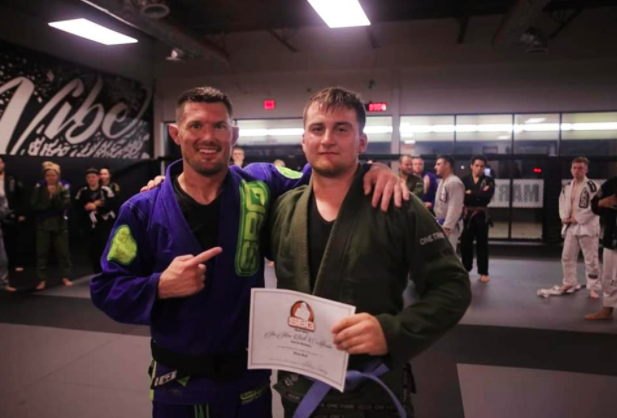 Recently, a Jiu Jitsu competition called Battle of the Blues was held in Atlanta.  Nearly a dozen Brazilian Jiu Jitsu blue belts from Straight Blast Gym Buford registered for the competition, one of them being Denis Balakin.  Despite the fact that Denis' first round opponent outweighed him by 40 POUNDS, and that Denis would be in Miami that weekend, he still registered and trained to compete.  
On the day of the Brazilian Jiu Jitsu competition, Denis FLEW BACK TO ATLANTA FROM MIAMI just to compete in the martial arts tournament.  It was one the craziest, but most admirable things we've ever seen from one of our BJJ athletes.  Denis' extremely large opponent defeated him in the first round, but that didn't really matter.  Denis had trained hard,improved his diet, and gave his opponent hell, despite being much smaller and having to get up before dawn to catch his flight back to Atlanta.  After his match, he still stuck around until the end of the event so that he could support his SBG Buford teammates.  THAT is what being part of the SBG tribe is all about.   
It's been quite impressive to watch Denis' progression on the mats since he first came to Straight Blast Gym Buford back in 2018.  As he puts it, "I started doing BJJ because it looked challenging.  Once I began regularly training I found it incredibly humbling as well."  That kind of attitude has made Denis a favorite amongst his Jiu Jitsu coaches.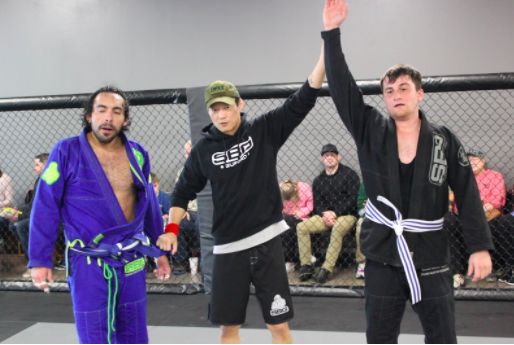 Brazilian Jiu Jitsu Coach, and brown belt, Sean Coleman said this about Denis:
"He's been one of the most consistent students we've had, especially during this whole COVID-19 mess.  While most students were waiting to get back to full contact training, Denis was back on the mats as soon as he had the opportunity.  He also represents well at our events, whether it be a jiu jitsu tournament or a fight night."
SBG Jiu Jitsu Coach Woo Ko added this about Denis:
"He's a good, safe training partner and he asks a lot of questions.  The students that regularly show up to class and ask questions are the ones that are thirsty to learn."
Congratulations to July's Martial Arts Student of the Month, Denis Balakin.  Keep up the great work!!