Kids Brazilian Jiu Jitsu Team Scores Big At Local Martial Arts Tournament
With a dozen martial arts athletes turning out to compete at the New Breed Brazilian Jiu Jitsu tournament in June, SBG's junior athletes were prepared and ready to give forth their best efforts. The young martial arts practitioners had put in anywhere from a few months to a few years of practice into Brazilian Jiu Jitsu, and they were looking forward to having a platform to showcase their hard work. And showcase they did!
At the end of the day, Straight Blast Gym's martial arts team collected FIRST PLACE overall! With athletes from dozens of other martial arts schools showing up to compete, this was quite an accomplishment. Head Kids Martial Arts Coach Sean Coleman had this to say about his athlete's performances:
"Holy smokes, what an amazing day! The kids looked super composed and relaxed out there. Seeing their faces light up when receiving their medals, belts, and swords were truly amazing, especially after all of the time and hard work they've put in at the gym."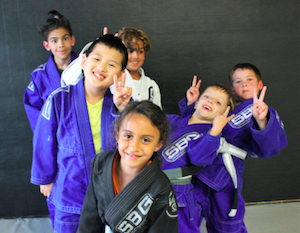 SBG Buford's Growing Gorillas fantastic display of martial arts, and humbleness in victory made for a great afternoon at New Breed.
Congratulations Growing Gorillas Martial Arts team!!!