John Risley is June's Martial Artist of the Month
John first first put  at Straight Blast Gym in 2014.  Having some experience with combatives training in the military, John liked training in an environment where he was offered competition and physicality.  John took to jiu jitsu like a fish to water, and quickly began making his mark as a tough round during Brazilian Jiu Jitsu training.
Even when his life's schedule became overwhelming and he had to step away from Brazilian Jiu Jitsu and SBG for awhile, he kept active and in shape.  When things settled down he found his way back to SBG and back into Brazilian Jiu Jitsu. It was there that his training really went to another level.
At consecutive International Brazilian Jiu Jitsu Federation tournaments, John came in first place in his division.  These results, combined with John's dedication and strong work ethic led to Head Brazilian Jiu Jitsu Coach Phillipe Gentry promoting John to the rank of purple belt.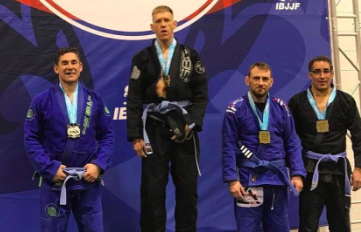 Coach Phillipe had this to say about John:
"He's a true gamer.  Every time he competes one thing is for sure; nobody is going to outwork him."
Earlier this year John enrolled his son (also named John) in Brazilian Jiu Jitsu classes at Straight Blast Gym.  
Great work, and congratulations John!