Chad Risley is December's Martial Arts Member of the Month
Chad Risley is a staple of SBG Buford's Mixed Martial Arts team.
Hard worker. Committed. Dependable. These are some adjectives that the martial arts coaches of Straight Blast Gym Buford used to describe Chad Risley when he was announced as December's Martial Arts member of the month.
SBG Buford's Head Mixed Martial Arts Coach Pat Barger expanded:
"One of the things we look for is consistency and a desire to continue getting better. Chad is one of our most active athletes and is always looking to improve the areas of his game where he doesn't have much experience."
Chad comes primarily from a wrestling background. He also has done some Brazilian Jiu Jitsu when he was younger, but his greatest strength is wrestling. It's quite frequent that high school and/or college wrestlers come to SBG, looking to not only stay in shape, but also enjoy the sense of competition they received from their wrestling days.
When he began training at Straight Blast Gym Buford this past April, he quickly found himself in our Brazilian Jiu Jitsu and Muay Thai classes, helping to complement the skills he already possessed in wrestling. It wasn't too long after that Chad's grappling and striking skills were strong enough that he was granted access to SBG Buford's Mixed Martial Arts program. On top of that, Chad's experience in wrestling, combined with his dedication to his Brazilian Jiu Jitsu classes lead to him receiving his BJJ blue belt this past summer!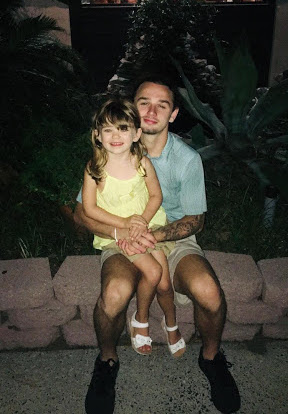 His mother, Carrie, said this about Chad:
"His favorite part about the gym is the atmosphere, his coaches, and definitely the sparring on Friday nights."
Chad isn't the only member of the Risley household that trains at SBG Buford. His mother Carrie, father Ryan, and little sister Rylee are also members of the Tribe.
Keep up the great work, Chad, and congratulations on being December's Martial Arts Member of the Month!