Tavin Schreiner is June's Kid of the Month
Tavin Schreiner recently regailed his coaches with an incredible story that re-affirms why we love teaching Brazilian Jiu Jitsu to the kids of Buford, GA.
Tavin, who began training in Brazilian Jiu Jitsu in December of 2016, had been dealing with a bully at school.  After struggling with this bully for the entire school year, Tavin used the bully-proof techniques that he learned in Brazilian Jiu Jitsu class to deal with the bully and put a stop to his harassment!  Head kids Brazilian Jiu Jitsu Coach Sean Coleman heard this story and said the following:
"It was AWESOME to hear the story of Tavin standing up to his bully at school.  A huge part of what we preach to our kids and their parents is how our Brazilian Jiu Jitsu provides REAL, practical self-defense, not only with actions but words.  Tavin showcased that with flying colors and as coaches we could not be prouder."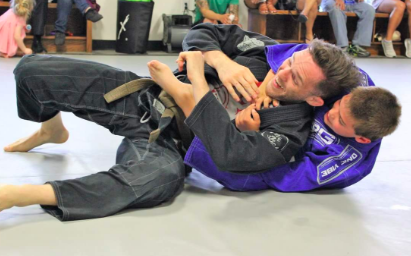 Tavin has shown such incredible improvements in Brazilian Jiu Jitsu that he recently was promoted from white belt to grey & white belt.  Tavin has shown incredible adjustments and resilience in class, and his coaches see nothing but a bright future for him in Brazilian Jiu Jitsu.
Congratulations Tavin, and keep up the fantastic work!