One Friday Night, October 5th, three of Straight Blast Gym Buford's MMA athletes will take to the cage for a night of mixed martial arts action!
After lots of preparation, Tyler Trump, Colin Conway, and CT Greene are set to compete in a mixed martial arts fight night at Electric Cowboy in Kennesaw, GA. . The three young athletes are all amateur MMA fighters, with two of them making their mixed martial arts' debuts for Straight Blast Gym.
Tyler Trump is a coach and employee of Straight Blast Gym Buford, and has experience competing in Kickboxing and Brazilian Jiu Jitsu. At 22 years old, Tyler has a bright future in martial arts. He just recently received his blue belt in jiu jitsu, and is quickly becoming one of SBG Buford's Muay Thai leaders.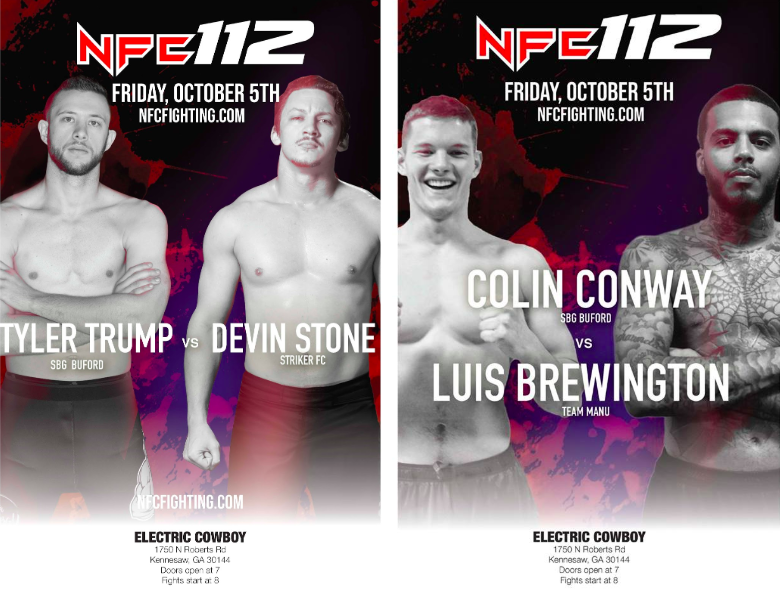 Big CT Greene is fairly new to Straight Blast Gym, moving here from Philadelphia. CT is 27 years old and has experience competing in mixed martial arts before moving to Georgia. We are extremely excited to have CT in our tribe and can't wait to see him compete in the middleweight division.

And finally we have "Captain America" Colin Conway. Colin has very quickly established himself as a serious player in the local MMA 170 pound division. Taking his first mixed martial arts fight in January of 2018, he has already compiled a 2-0-1 record.
We're expecting a great turnout on October 5th to support our 3 MMA competitors. The next night, we'll be supporting our SBG training partner from across the seas as Conor McGregor makes his return to the UFC on October 6th to challenge for the lightweight title!