Gorilla Cup Martial Arts Tournament in Buford, GA
It's time for Straight Blast Gym Buford's next installment of our in-house martial arts tournament, the Gorilla Cup.
On Saturday, October 12th, SBG Buford will be hosting a Brazilian Jiu Jitsu tournament for kids, men, and women.  The event will be held at Straight Blast Gym Buford with an official start time of 10am.
The Gorilla Cup is one of our favorite events of the year, as it brings the Straight Blast Gym tribe together for an awesome morning of jiu jitsu, competition, and FUN!!  Men, women, and children of all experience levels will be able to compete against their peers with a chance to walk away with some beautiful new hardware.  Medals will be given to the jiu jitsu athletes that finish 1st, 2nd, and 3rd in their bracket.
To ensure that the competition is as fair as possible, the jiu jitsu coaches at SBG Buford will design the brackets using the following criteria: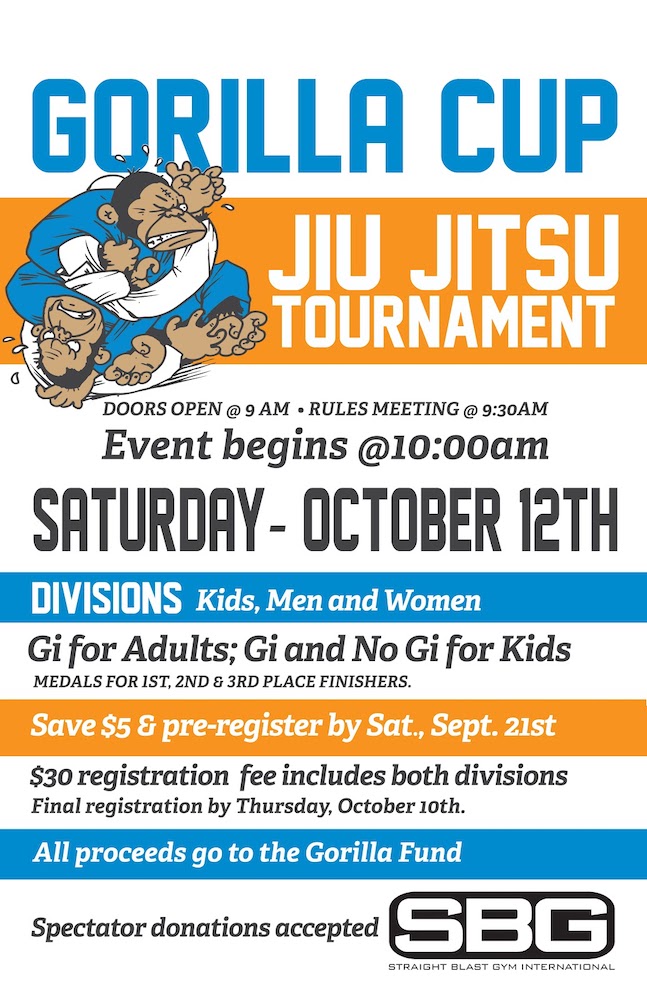 These divisions allow for the most parody possible, so that martial arts athletes of all skill levels are able to have a challenging and rewarding experience.  Gorilla Cups feature SBG athletes all the way from white belt to black belt.
Here's what the schedule of events looks like:
9am: Doors Open
9:30am: Rules meeting with Coach Phil
10am: Gorilla Cup begins
The Gorilla Cup is run and operated as a real, legit martial arts tournament, complete with judges, scorekeepers, brackets, and medals for the top 3 finishers in each division.  Our martial arts athletes are encouraged to bring their family and friends to spectate, take pictures, shoot video, cheer them on, etc.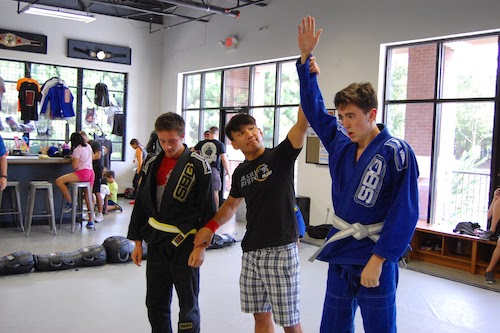 So here's how you can register….

The Gorilla Cup raises money for our Gorilla Fund.  This money allows us to pay for medicals, travel expenses, and registration fees for our kid and adult martial arts competitors.  This summer we used the Gorilla Fund to register 10 of our Muay Thai athletes to compete in a local tournament.  When coaches need licenses, fighters need money for medicals, or when a child doesn't have enough money to attend a jiu jitsu seminar….the Gorilla Fund comes through.
Register by Saturday, September 21st, and save $5 off of your Gorilla Cup admission!!