Brad Wharton is January's Martial Artist of the Month
Brad Wharton is known to his coaches and training partners as someone who is going to set a fast pace, and probably wear you out in the process.  Over the past few months, he has added a new skill to his repertoire...strength and explosiveness.
A mixed martial arts athlete for Straight Blast Gym Buford, Brad has been training with the tribe since early 2016.  Being primarily self-taught in martial arts, Brad was looking for some structure and a higher level of coaching in Muay Thai, Brazilian Jiu Jitsu, and Mixed Martial Arts.  Possessing strong cardio and an unusual striking-style, Brad became a good training partner for his fellow martial arts athletes at SBG. On multiple occasions he has represented the tribe in mixed martial arts competitions in and around Atlanta.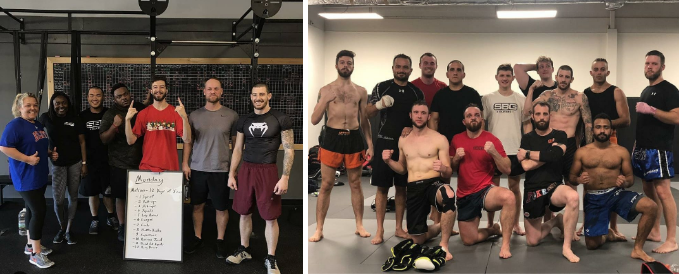 In the summer of 2018, Brad began to add Fitness Performance classes into his schedule, to complement his martial arts training.  In these group fitness classes, Brad began to add explosive strength training, dynamic movements, and intense cardiovascular exercises that directly complimented his martial arts efforts.  Since then, Brad has seen tremendous gains in his mixed martial arts training. Muay Thai Coach Jim Sheppard said this about Brad:
"The past few Friday nights I've noticed a faster and tougher Brad Wharton during our sparring rounds.  He's always had good cardio, but he's definitely moving more explosively now. I'm watching him put a hard pace on his training partners, and maintaining it for the entire round.  It's very evident that those Fitness Performance classes are paying dividends."
Others have also noticed Brad's improvements since adding Fitness Performance classes into his schedule.  The person that has noticed it the most...is Brad.
"I love it.  I wish I had started doing it sooner.  I feel like I have so much more energy now."
Keep up the amazing efforts Brad!